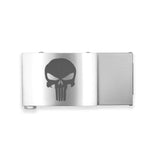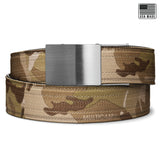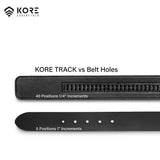 TACTICAL NYLON GUN BELT 1.5"
↓ SCROLL DOWN FOR MORE INFO ↓
Includes: Engraved Punisher X4 Stainless Steel Buckle, Tactical Nylon Gun Belt 1.5", Tip Keeper, Hex Wrench & Set Screws
Kore Reinforced Every Day Carry belts are the most adjustable, supportive, comfortable belt you will ever wear. They provide a precise, secure fit - so you get a smooth, fast draw every time. Tactical belts are 2X's as stiff as our leather EDC belts.
Belt Width / Thickness

1.5" / 5mm

Load Rating

Up to 10 lbs. / IWB, OWB or Appendix

Size Range

Fits  24" - 54"

Buckle Material/ Finish

Stainless Steel

Buckle Size / Weight

3" x 1.75" / 4.5 oz.

Adjustable Track

Provides Over 40 - ¼" Size Positions

Belt Reinforcement

Power-Core™ Center for Added Stiffness and Support; Virtually Indestructible

Belt Material

Nylon / Super Fiber Inner

Tip Keeper

Included with 1.5" Tactical Nylon Belts




Interchangeable

X Series Gun Buckles Compatible with all 1.5" Gun Belts (Leather, Buffalo Leather, Tactical Nylon)




Not Compatible with 1.75" Garrison Belts, Battle Belts, or Non-Gun Belts

Warranty 

1 Year Manufacturer's / 30 Day Money-Back Guarantee*
Gun Buckles
Kore Essentials offers a wide variety of heavy-duty ratcheting buckles (4.5 cm x 6 cm) designed to work with our gun belts. Buckles are constructed of either high-grade, zinc alloy, with an electroplated gunmetal or black powder-coat finish, or solid stainless steel (all contain nickel). The buckle mechanism features our Kore designed and patented, spring-loaded system that's durable, reliable and won't stick. 

All gun buckles enlist the use of 2 set screws (M4 x 7 mm length), and a row of teeth, to securely hold the belts into the buckles. This upgraded system is extremely secure. A 2 mm Allen wrench is included with each gun buckle. 

Choose any of our X-series gun buckles (1.5" wide) or beefier Garrison (1.75" wide) styles. The only difference between buckle models is the style & width - the functionality is identical. 

Gun Belts
Kore EDC gun belts feature a 10" virtually indestructible, hidden track with 40+ size positions to adjust with. Now you can precisely adjust your gun belt in small 1/4" increments for a perfect fit. It's the ultimate concealed carry belt for work, play, the range, or even out on the town. 

All our gun belts (leather & tactical) feature our Proprietary Reinforced Power-Core™ center. This unique blend makes our belts sturdy and stiff enough to support your firearm and gear without any sag, yet flexible enough to sit, walk, or move in all day. It's the most secure, comfortable gun belt you will ever wear. 

EDC Leather & Tactical Gun Belts are 1.5" wide and 5 mm thick, and designed for IWB, OWB and Appendix carry situations. EDC Belts come in regular sizes (24" to 54") and XL sizes to fit waist up to 72". Check sizes when ordering. 

Garrison Leather and Tactical Belts are 1.75" wide belts and designed for the range, excursions, training or law enforcement. Due to their width they are not ideal for IWB or Appendix. Garrison Belts come in one size that fits any waist from 24" up to 54". Check sizes when ordering.  

Leather gun belts are constructed using 2 full-length pieces of Full Grain Buffalo leather or Top Grain leather and designed to support loads up to a maximum of 6 lbs. for Full Grain and 4lbs. for Top Grain (that's total gear weight). These belts are not designed to serve as tactical or duty belts, but rather EDC belts for work, play, dress, casual.  
Nylon tactical belts are stiffer and more rigid than our leather gun belts, and intended to support heavier loads and more gear. Constructed using Nylon Web outer layer (rated to 500 lbs.), Reinforced Power-Core Center™ and Super-Fiber inner liner for added strength and durability. Tactical belts are designed to support holstered firearms or gear up to a maximum of 8 lbs. (total weight). Due to the stiffness of our tactical belts, they include a Belt Keeper to keep the belt tip flush with your pants.  

Note: 
Gun buckles and belts are NOT interchangeable with any of our Classic Fashion buckles or belts. EDC Gun belts are wider and thicker than our fashion belts.
ENGINEERED BETTER
We pride ourselves in blending innovation with quality to create superior products. Whether it's our belts, wallets, sunglasses or backpacks, all our products are designed to make your life a little easier, and a little more comfortable.  We find a problem with an everyday essential, and we fix it. That's our job.   As a result, we hold a total of 13 U.S. patents and 4 Trademarks. 
GUARANTEE & WARRANTY 
If you don't love your new item, just ship it back to us within 30 days (uncut/original condition/original packaging) and receive a refund (minus shipping).  All Kore products carry a One Year Warranty against manufacturer's defects.
KORE DIFFERENCE 
In 2013 we set out to redefine men's accessories. Our simple approach >> blend innovation with superior materials to create unique, more exciting products that exceed expectations. Thanks for your support. 
© Copyright 2023 Kore Essentials, Inc. All rights reserved. Trakline Belt ® is a registered U.S. trademark. Our unique buckles & accessories are patented. 
Gun belts are ONE-SIZE and FIT ANY WAIST from 24" up to 44"  [XL & Tactical belts up to 54"]
Here's how to trim your new belt for a perfect fit. It's easy and only takes a minute to do.
On the back of the belt we printed a sizing ruler. Locate your pant size on the ruler - ADD 4 inches and CUT - using sharp, heavy-duty scissors.
For example, if your pant size is 32" – cut the belt at 36" mark. If your pant size is is close to the maximum – do NOT cut the belt. Proceed to step 3.
Using the wrench that is included, loosen the screws on the back of the buckle.
Insert cut or blunt end of belt into buckle teeth and clamp down firmly. It's OK to use force if needed (use tabletop for leverage) -  the buckle won't break.
Tighten the screws until they are flush with the buckle.  You will get resistance.
Feed belt around your waist (L to R), thru buckle and the first belt loop. Pull until belt feels snug.
Ideally, your belt tip should extend beyond the first belt loop by 2-3 inches. If your belt is too long – just remove the buckle and trim off one inch at a time until the desired length is achieved. Cut with Caution. 
Watch our "How to Size Your Kore Gun Belt" video instruct
Orders are processed in 1-2 business days.
Standard shipping time is an additional 3-7 business days.
Delivery times are not guaranteed.
UNITED STATES
Orders over $100 = FREE USPS First Class Shipping [3-7 Business Days] 
Smaller Items = $2.95 to $3.95 USPS First Class [1-2 Business Days Processing plus 3-7 Business Days In Transit]  
Buckle and Belt Sets = $6.95 USPS First Class [1-2 Business Days Processing plus 3-7 Business Days In Transit]  
Sets with Extra Belt = $9.95 USPS First Class [1-2 Business Days Processing plus 3-7 Business Days In Transit] 
USPS Priority Service = $12.95  [1-2 Business Days Processing plus 2-3 Business Days In Transit] 
USPS Express Service = $44.95  [1-2 Business Days Processing plus 1-2 Business Days In Transit] 
Orders are typically processed and shipped within 1-2 business days (Mon-Fri) via US Postal Service First Class. Orders placed after Noon PST on Friday will ship out by Tuesday.  All shipping and arrival dates are estimates and not guaranteed.
Customers are emailed Order Notifications when an order has been placed.  A second email is sent with the Tracking Number when the order is shipped.  Outgoing orders contain Packing Slips, with no pricing and arrive in unmarked brown boxes.   California residents add 7.75% Sales Tax. 
If for any reason, USPS does not deliver a domestic package within 15 business days from the ship date, we will reship the order. 
---
CANADA 
Smaller Items = Rate Calculated at Checkout  [10 - 28 business days] 
Buckle & Belt Sets = $12.95 

First Class Parcel 

 [10 - 28 business days] 
Priority Service = $38.95 [3-7 business days]
---
INTERNATIONAL - OUTSIDE NORTH AMERICA 
Smaller Items = Rate Calculated at Checkout  USPS 

First Class Parcel  

[ 2 - 6 weeks] 
Buckle and Belt Sets = $18.95 USPS 

First Class Parcel 

 [ 2 - 6 weeks]
We ship Worldwide daily to most countries. International orders depart the USA thru Los Angeles Airport (LAX). USPS Tracking ceases when packages board flights for destination countries. Delivery confirmation on all packages. Customs fees or import taxes are the responsibility of the customer. Orders may experience delays in some countries due to customs delays and/or local postal service issues.